Explore Springpack
At Springpack, our organization is driven by the values and the ethos we believe in, which means we strive for excellence in value, trust and service. This refreshing approach is evident in every facet of our customers experience. Our mission statement below, best expresses our aims and focus.
---
Mission Statement
To provide every customer with a personal, efficient packaging solution which not only meets their exact needs, but also offers them great value, quality products and an unrivalled level of customer service.
---
How do we measure up?
We know that the terms Quality and Service are used too broadly these days to have retained the integrity of their original meaning. Yet we know that our customers still value these factors. Our customer testimonials, reveal that we take customer satisfaction to a whole new level in these areas! We do this by ensuring that all our customers are given a hassle free 100% quality service, which is second to none.
---
We genuinely deliver!
We understand how important it is to our customers that packaging supplies are delivered on time. Our performance is at the top of what is achievable in the sector.
With our nationwide next day delivery service and a "delivered in full on time" average of over 98%, our service is second to none in the packaging sector.
---
Quality Assurance
Springpack are ISO9001 & ISO14001 registered and audited on a regular basis to ensure we maintain the high standards we have set ourselves. We have a fully accountable ordering system which tracks all orders from initial receipt, through processing, stock allocation, delivery and receipt of goods. Specification sheets are available on request for all products. Our Health & Safety Policy is certified by a professional external body, with regular audits for conformity.
---
BondMark™
The BondMark&trade seal on Springpacks products guarantees 100% conformity to an international packaging standard that meets every critical requirement of global industrial markets
BondMark™ strips the hazards and unknowns out of packaging procurement. That's why busy industrial buyers source BondMark™ certified materials with confidence, in the secure knowledge that they will always get a product that conforms exactly to their order specification - every time. BondMark™ certified products benefit from: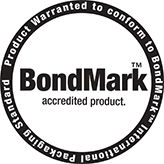 A warranty datasheet covering:

Performance and fitness for purpose
Quality assurance and recyclability
Environmental compliance

Explicit labelling: accurately profiles the product
The BondMark™ validation seal